Smell What's Cookin'
One week...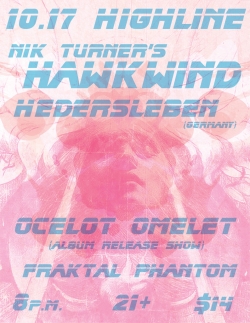 2017-10-10
One week until we blast off at The Highline with Nik Turner's Hawkwind for the Pleasure Trauma album release show! More info here
—OS
Haunt -official video-
2017-08-29
Two Days...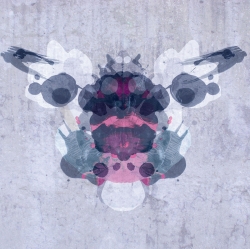 2017-08-27
Pleasure Trauma. Available Tuesday, 08.29 on tri-color splattered 180gm delicious vinyl and digital download.
17.08.29
2017-08-23
Haunt video in production
2017-07-12
We've got *most* of the footage shot for the upcoming Haunt video... I don't wanna give away any of the money shots, so here's a sneak preview of Whiz and I pickin' a lick
#pleasuretrauma
TEST PRESSINGS!!!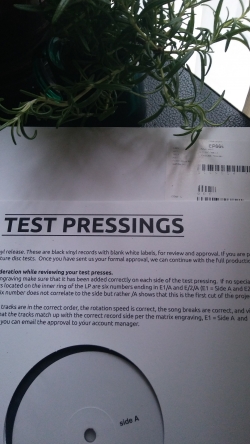 2017-06-20
We've just received test pressings for our forthcoming LP, Pleasure Trauma! This is the last step in the approval process, which means 250 really cool looking and sounding pieces of wax will be heading our way in the very near future. It's been a long time coming, and it's almost here.
—OS
Video from Lo-Fi 170402
2017-04-05
Here's one of our new[ish] ones from the other night at LoFi Seattle. Thanks again to all the fantastic freaks who came out!
Head on over to the "SEE" section for more!
—OS
April 2 @ Lo-Fi!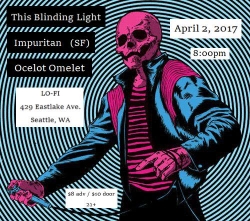 2017-03-21
Our first performance of 2017 will occur at Lo-Fi performance gallery in support of old friends This Blinding Light and SF rockers Impuritan! Be there or be an equilateral four-sided polygon!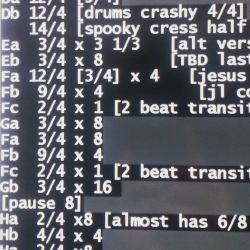 2016-12-12
Structuring new songs today... progress programming prog-rock progressions; good stuff on the way!
—OS
OcOm DOTCOM 2.0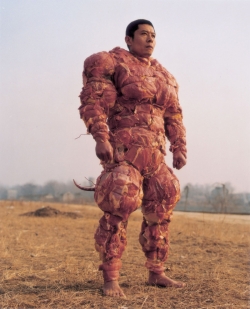 2016-11-15
Welcome to the new and improved www.ocelotomelet.com!
Hear it here first, straight from the horse's mouth!
We've added quite a bit more content and have a sleek new look courtesy our friend Sam at tsohonis.com. He's a mean man in a meat suit and he means business. Well, not really, but he is one heckuva web designer...
If you're here, you've made it past the aardvark- well done, he's a daft bastard. Here you will find sacntuary from the horrors of what we're calling the "real world". Seems more like the Twilight Zone lately, but in these strange times we must learn to trust our senses. As Hunter S. Thompson once said "When the going gets weird, the weird turn pro".
We've got some big things planned for 2017 (more details coming soon). For the time being, go ahead and have a look around... immerse yourself in our weird world!
—OS
On the way to Mastery...
2015-02-11
Well, our studio time last week resulted in one hell of a record, I have to admit, as well as a few surprises in some of the songs... there's some pure ear candy in there for y'alls. We've given the green light to send it off to the mastering master, Chris Hanszek for [you guessed it] mastering!
We're all quite excited if you couldn't tell...
Os
—OS
Return To Soundhouse
2015-01-13
Oc / Om will return again [again] to the mighty Soundhouse early February to put the icing on our new record, Pleasure Trauma, again with the guidance of the legendary Jack Endino.
In other news, big things are happening down at the [eggplant]. Rehearsal has resumed with a new drummer [more on that later], including work on several new songs... We're also working on a project that will completely revolutionize the way we do live shows. I don't want to give too much away right now, but suffice it to say we're dealing with a different beast.
Happy New Year y'alls, let's kick it's ass!
Os
—OS
Now we wait...
2014-12-06
So people have been asking me about the new album; here's the scoop: The fact of the matter is, we didn't feel like we accomplished in two days what we set out to do with what has now become a full length LP. (the ruffs sound awesome, but our ears were bigger than our eyes :p) We have decided that, rather than mixing what we have and putting out a good sounding album, we do one more day in the studio and release a really great sounding album. We are still waiting to set a date with Mr. Endino; he is a very busy man, so once we know, you'll know. The waiting is the hardest part which brings a horrible song to mind and only makes it worse but the it will be worth it, we promise :) xoxo, Os
—OS
REMIX ALBUM!
2014-10-28
Our first remix album, [Replicant Exorcist] is now available for free, just in time for Halloween! Basically sounds like Ocelot Omelet run through a wood chipper... Check it out!!!
—OS
MIXING
2014-10-17
Well, we are very pleased to report, our two days at Soundhouse went swimmingly. I've been listening to the rough mixes and I can say with most certainty this is going to be a monster of a record! We are very pleased with the results so far... we're taking a brief respite, then we're gonna do a little listening, a little mixing and see if there's anything else we want to add, but we're all very excited... Keep y'all posted!!!
—OS
DATES BOOKED for NEW RECORDING SESSIONS!
2014-10-07
Ocelot Omelet are returning to Soundhouse to record our next offering, tentatively entitled "Pleasure Trauma", once again with the illustrious Jack Endino! The record will naturally be released on 180 gram vinyl with a digital download produced from a separate master. More details to come!!! In other news, we are now on Twitter as @OcelotOmelet, and Instagram as, you guessed it, ocelotomelet! Follow us if you DARE!!!
—OS
NEW LIVE SHOW!
2014-07-21
Ocelot Omelet will be performing new material with a new lineup on August 8th @ The Rendezvous! More info HERE! In other news, We have scheduled recording dates for our next record, once again with Jack Endino! Of course we are all very excited and honored to be working with him again!
—OS
EP RELEASE!
2013-12-17
Our new EP, Present in the Dark, is now available via Bandcamp! Get it while it's hot!
—OS
Success!
2013-11-11
Thanks to the assistance of some very generous backers, we've reached our goal for our Kickstarter campaign! The artwork for the forthcoming EP is nearing completion, and pressing will begin this month!

In other news, "Out of the Frying Pan and Into Another Frying Pan" is now available at bandcamp, just in case you can't wait to get your grubby little mitts on the vinyl...
<a href="http://ocelotomelet.bandcamp.com/track/out-of-the-frying-pan-and-into-another-frying-pan" _mce_href="http://ocelotomelet.bandcamp.com/track/out-of-the-frying-pan-and-into-another-frying-pan">Out of the Frying Pan and Into Another Frying Pan by Ocelot Omelet</a>
—OS
Album Release Kickstarter!
2013-10-09
Ladies and Germs, our Kickstarter campaign for our forthcoming EP is now live! This will partially cover the expense of pressing it to high-quality vinyl. We're offering some great prizes, so please dig deep; your support is crucial!

Now, without further adieu, check out our first single, "Out of the Frying Pan and Into Another Frying Pan", recorded and mixed by the legendary Jack Endino!

Present In The Dark EP
—OS
Recording Done!
2013-05-20
It is with great pleasure we wish to announce Ocelot Omelet have completed the recording of our forthcoming EP, "Out of the Frying Pan and Into Another Frying Pan", recorded and mixed by the legendary Jack Endino. Mastering and subsequent release on vinyl due by the end of summer!
In other news, we will be performing a very special show celebrating the impending marraige of our very good friends Samuel Blunk and Alexis Vassilaros at the Rezendevous Jewel Box Theatre onSaturday, July 6th at 10p.m.
Consider yourself invited...
otto
—OS
NEW WEBSITE
2013-03-11
Ocelot Omelet are very proud to announce the re-awakening of our many-limbed and several-eyed beast in the form of this brand-new website, and that we are once again entering the fray for recordinational porpoises, i.e. [in layman's terms] we are recording new material...
Upon the April of 2013, we shall have been recording with the illustrious and multi-talented Jack Endino. This, of course, is indeed a great honor for us, as well as very wonderful news for breakfast everywhere... oh, and a new EP is on the way... NBD...
Chin up, keep a stiff upper lip, and all that rubbish...
—OS